ARMADILLO L NANO (EP3019)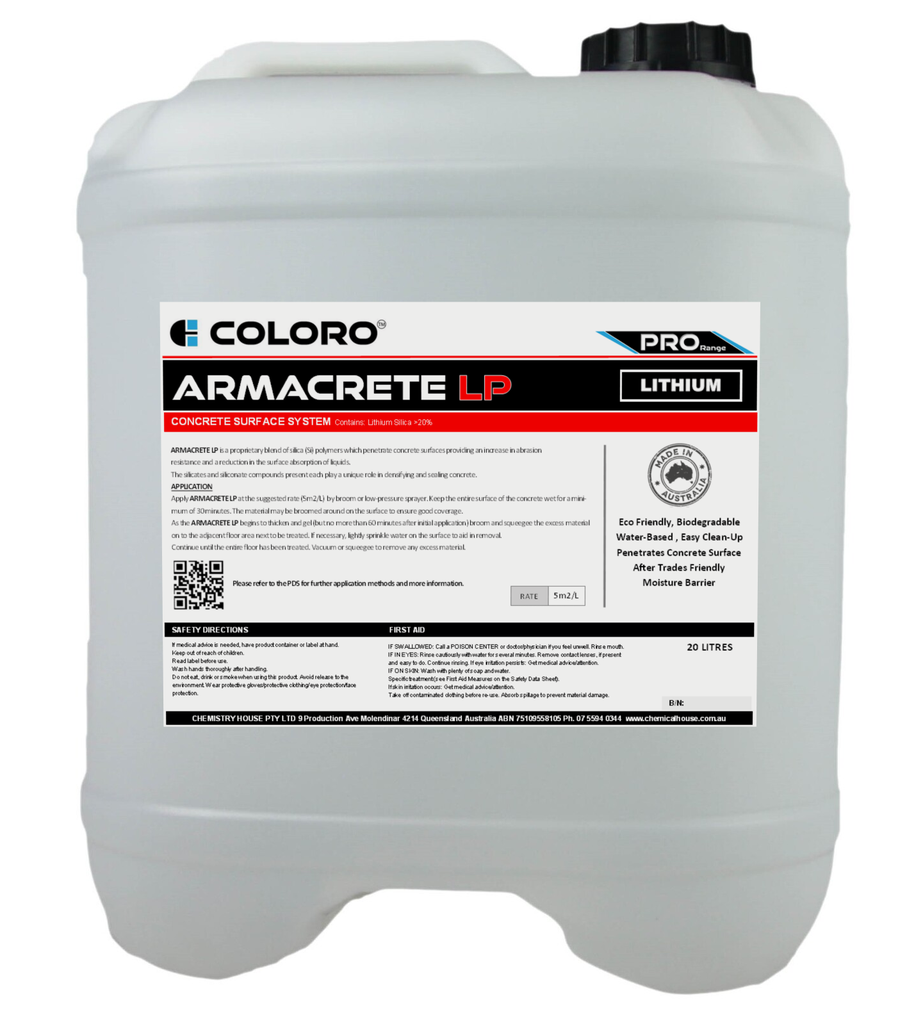 ARMADILLO L NANO (EP3019)
---
Class: 8 SubClass: PackGroup: III UN: 1719 HazChem: 2R EPG: 37 OHSHazard: Y
---
DESCRIPTION
ARMADILLO L is a proprietary blend of nano silica (Si) polymers which penetrate concrete surfaces providing an increase in abrasion resistance and a reduction in the surface absorption of liquids. 
The nano Lithium silicate and siliconate compounds present in ARMADILLO L each play a unique role in densifying and sealing concrete. 
The nano Lithium Silicate in ARMADILLO L penetrates deep within the matrix and chemically reacts with itself and calcium hydroxide (also known as portlandite) in the surface to produce calcium silicate hydrate (CSH) – the primary strength-providing portion of concrete paste.  
Portlandite is a soft, porous mineral that is subject to carbonation and chemical attack, so replacing it with the much stronger CSH is a major benefit of ARMADILLO L. 
The siliconate in ARMADILLO L also reacts with the concrete to form a hydrophobic polymer within the pores and on the concrete surface. 
The ultimate result is a concrete floor that is exceptionally dense and liquid-repellent, which equals long-lasting protection and durability.
ARMADILLO L is water based. It generally dries tack free in 2 to 4 hours at 21C @ 50% RH.
PRIMARY APPLICATIONS
• Interior or exterior
• Warehouse floors
• Commercial floors
• Manufacturing plants
• Residential garages and basements
• Distribution centers   
ADVANTAGES OF USE

• Reduces porosity and increases hardness of the concrete surface
• Combines with the concrete becoming part of the matrix and lasts the lifetime of the substrate.
• VOC Compliance with GREEN STAR- OFFICE DESIGN V3 IEQ-13
• Resists penetration of oil and many chemicals
• Reduces the ingress of carbon dioxide and resulting carbonation (degradation of the substrate)
• Minimizes tyre marks and enables them to be more easily removed
• Equipment can be cleaned with water
• Can be applied to fresh, new, or existing concrete
• Low sheen enhances the appearance of concrete surface
• Will not blush 
• Buffable
• Compatible with bond breakers for tilt-up projects.
This is a preview of the recently viewed products by the user.
Once the user has seen at least one product this snippet will be visible.
Recently viewed Products