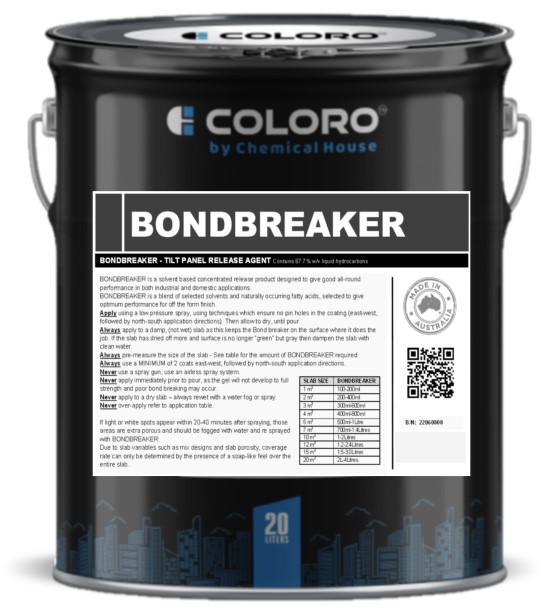 BONDBREAKER
---
Class: 3 SubClass: PackGroup: III UN: 1993 HazChem: 3[Y] EPG: 3A1 OHSHazard: Y
---
DESCRIPTION
BONDBREAKER (Tilt-Up Slab Release Agent)
BONDBREAKER is a complex blend of solvents and naturally occurring long chain aliphatic acids, which form a gel when reacted with damp fresh concrete. 
BONDBREAKER should be applied by low-pressure knapsack spray directly onto the surface, which forms the base mould, at the low-sheen stage of drying. 
If application at this time is not practical, the concrete should be hosed down with water, so a small amount of ponding occurs, then BONDBREAKER applied at least 12 hours prior to pouring. 
This delay allows the carrier solvent to evaporate, leaving the reactive components available for the bond breaker reaction. 
BONDBREAKER contains no petroleum waxes, mineral oils, or resins, which will cause decorative coating problems when finishing the job.  
Tilt-up slabs treated with BONDBREAKER can be overcoated with conventional coatings designed for concrete masonry, after suitable preparation, including precleaning with a ALKALINE STEAM DEGREASER, a CHEMICAL HOUSE PRODUCT or left a suitable time 12 weeks to allow weathering and barrier breakdown.  
The solvents in BOND BREAKER have been deliberately selected to reduce the likelihood of damage to polystyrene inserts.
This is a preview of the recently viewed products by the user.
Once the user has seen at least one product this snippet will be visible.
Recently viewed Products