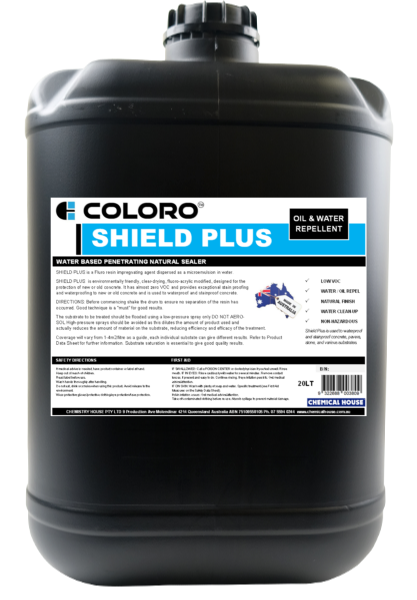 COLORO SHIELD PLUS WB
---
COLORO SHIELD PLUS WB OIL & WATER REPELLENT 20L
---
DESCRIPTION

SHIELD PLUS is a fluororesin impregnating agent dispersed as a microemulsion in water.
SHIELD PLUS is environmentally friendly, clear-drying, fluoroacrylic modified, designed for the protection of new or old concrete. It has almost zero VOC and provides exceptional stain proofing and waterproofing to new or old concrete.
SHIELD PLUS is used to waterproof and stainproof concrete viz., screeded, coloured, stenciled, and pavers from commonly encountered contamination, e.g. vegetable, mineral oils, coffee, tea.
SHIELD PLUS also functions well on terracotta, and other unglazed clays used for flooring, driveways etc.
SHIELD PLUS can also be used to sealing natural and synthetic stone, adobe bricks, straw reinforced clay plasters to assist weatherability of the surface.
SHIELD PLUS does not adversely affect the substrate's visual appearance, physical characteristics, surface traction quality, or surface bond quality, meaning SHIELD PLUS can effectively be used to enhance the stain resistance any cement based concrete installation, whether traffic-bearing or otherwise.
It is NOT AFTER TRADES FRIENDLY and should not be used if the surface is to have line-marking etc. applied.
ADVANTAGES

• Significant reduction of water adsorption.
• Significant reduction of oil adsorption.
• Significant reduction of water bourne dirt pick-up.
• Reduction of frost damage.
• Significant reduction of mildew, moss, and lichen growth.
• Restored thermal properties.
• Anti-graffiti properties.
• Does not impart the "wet look" to treated surfaces or contribute to surface gloss ( when correctly applied). 
This is a preview of the recently viewed products by the user.
Once the user has seen at least one product this snippet will be visible.
Recently viewed Products