SURFACE CURE W (WAX) TYP1-D CLS A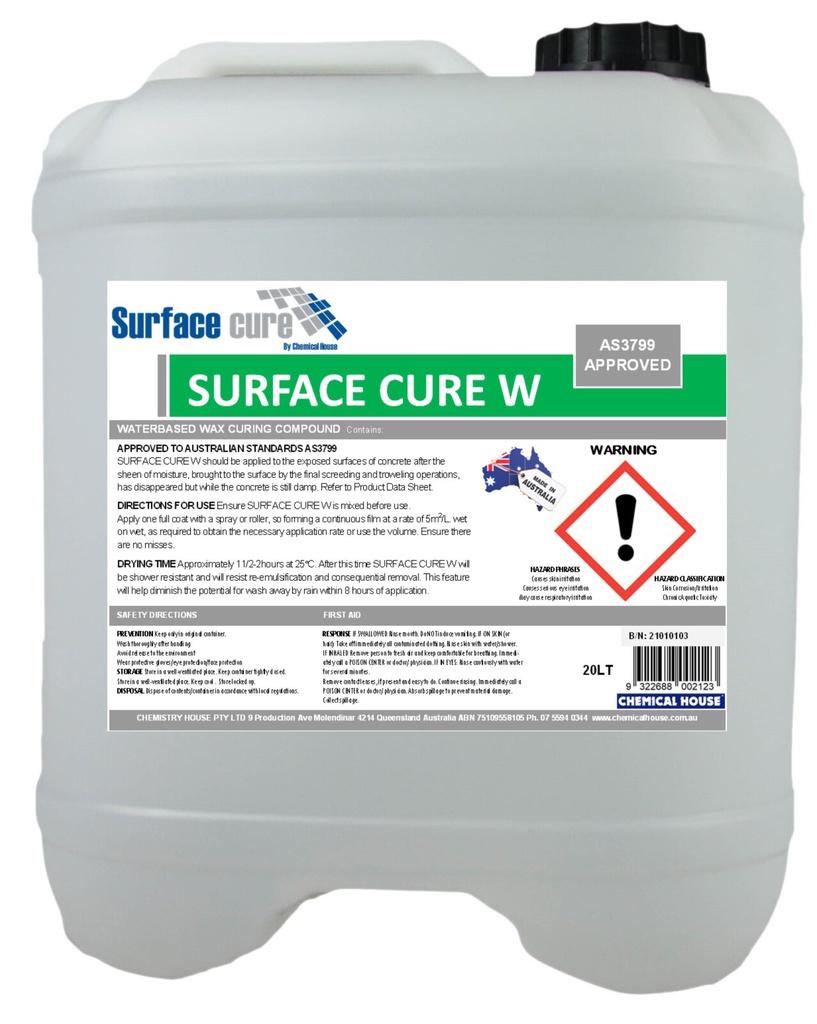 SURFACE CURE W (WAX) TYP1-D CLS A
---
CLASS A, TYPE 1-D CURING COMPOUND. AS3799 APPROVED. TMR APPROVED.
---
BACKGROUND
A membrane-forming curing compound is a liquid material applied to concrete to restrict the loss of water during the early hardening period.
It consists of non-volatile solids mixed with either water or a solvent.
The solvent, or blend of solvents, can be an aliphatic or aromatic hydrocarbon, or other type of organic solvent.
After application, the volatiles evaporate leaving the solid material deposited as a thin film over the concrete surface.
DESCRIPTION
SURFACE-CURE W CURING COMPOUND is a Class A curing compound for use on new concrete that facilitates maximum moisture retention through 28 days curing period to maximise concrete strength & durability.
SURFACE-CURE W, when applied by the correct method and at the recommended application rate, leaves a dried waxy film, as SURFACE-CURE W is based on petroleum waxes combined with other additives.
SURFACE-CURE W is a special wax in that it does not have the same OH&S issues* of causing pedestrian traffic to slip when walked on.
The film is drier, and it is easier to work. * when applied at the recommended rate.
USE
Mix prior to use. Ensure SURFACE-CURE W is homogeneous.
Calculate area to be treated, pre-measure the volume of SURFACE-CURE W.
Apply one full coat forming a continuous film at a rate of 5m2/L. wet on wet, as required to obtain the necessary application rate or use the volume. Ensure there are no misses.
This is a preview of the recently viewed products by the user.
Once the user has seen at least one product this snippet will be visible.
Recently viewed Products